Yoga Therapy : We practice Ashtang Yoga. In ashthang Yoga there are eight steps to attain the health, spirituality and then contemplation.it is the complete science of psychophysical health. It covers all aspects of human health.
Health Benefits of

Yoga Therapy
We know that yoga has a plethora of health benefits, but yoga therapy is a bit different. It involves a plethora of yoga practices to bring improvement to our health conditions or to the natural process like menopause or pregnancy. Asanas are known for being the most prominent Yogic tools followed by therapists, accompanied by breathing exercises guided imagery and meditation. Many people fail to realize that diet is also an integral part of yoga therapy.
Why Should You Start With Yoga Therapy?
Therapeutic yoga can be defined as a holistic approach that simultaneously works with our spirit mind and body. Numerous yoga practices strengthen our body systems in a systematic order, which includes the cardiovascular system and heart, muscles, lungs and the nervous system. Furthermore, yoga practices can help improve the functions of our digestive system. Hence, it helps in fostering psychological and overall well being as well as improving the delivery of oxygen to the tissues. Also, yoga can assist the body in removing waste products and cellular toxins in an effective manner.
Stress and tension have become a part of our life today and yoga or yoga therapy is undoubtedly the best method of stress reduction ever invented. Stress is linked to numerous medical problems – starting from irritable bowel syndrome, migraine headaches to light setting problems like osteoporosis diabetes and heart disease. As high levels of stress hormones, especially cortisol can undermine the immune system function. Here, yoga therapy can lead to miracle benefits.
Yoga has the capability to elevate several health problems; it is more effective when used in complement with other healthcare options, both conventional and alternative. According to the studies, it has been found that yoga therapy has the ability to reduce the possibility of side effects related to chemotherapy and radiation treatments. At the same time, it can also help in faster recovery after bypass surgery. After several clinical trials conducted, it has been found that patients suffering from Type 2 Diabetes, High Blood Pressure  and Asthma can reduce their medicine intake with regular practice of yoga therapy. We know that medicines have side effects in the long run. So, less number of medicines indicates your side effects, and undoubtedly cost-saving, as well.
How Quickly Can You Benefit From Yoga Therapy Sessions?
Your incremental approach is the key to successful yoga therapy. In comparison to regular medicine intake, practicing yoga therapy is much more effective and safer.
When you visit a doctor, he will prescribe you a lower dosage of medicine initially, followed by higher doses to get effective results in the long run. Simultaneously, you should start with yoga therapy slowly and ramp up the duration and intensity of practice in accordance with the circumstances. Moreover, some people who are suffering from serious medical issues find therapeutic yoga is the best option to begin with. This yogic therapy includes only one or 2 postures along with a single breathing exercise at the initial step.
Ideally, therapist prepare to teach a single person at a time because it enables him/ her to give more focus and concentration so that the person can practice at home without any extra help. Moreover, it is better to try with a few yoga postures initially to ensure high precision and confirm benefits. You can make an exception to this particular rule by teaching a series of practices in just a single session to relieve a particular symptom. But in that case, you should only assign a small part of the entire practice as homework. However, an experienced person can handle more in a single day therapy session.
Same Yoga Therapy May Not Fit Everyone
We know that no two people are the same. Each one of us has different weaknesses and strengths along with their overall fitness and health experience and varying level of yoga experience. Moreover, even if two people are suffering from the same disease, it is important to understand that the severity of treatment stages and the time devoted to yoga practice vary from one person to another. Some people suffer from multiple conditions and the practice you suggest for a single problem may contraindicate with the other one. Each of the afore mentioned factors plays a major role in deciding the kind of practices you prefer.
What Are The Principles Of Yoga Therapy
Differences in people should be highly respected, known as Bheda.
Teaching should be appropriate for a person, called Yukta-shiksana.
The teachings should consider place, situation, and country from where the student belongs. This is termed as Desha.
The instruction methods should entirely depend on the time of the season, year, etc. (Kala)
Different things should be taught to a person according to his condition (Vritti).
The teachings should confirm the mind direction. It means that the interest of the person should be taken into account like devotion exercise, chanting, etc, known as Marg.
The capacity of a person should be considered like how much endurance he has, his memory power, etc. This is known as Shakti.
Every individual should be taught according to his individual disposition age, constitution, etc (Deha).
Differences Between A Yoga Therapy Session And A Yoga Class
When individuals look for a yoga therapist, they are not actually willing to learn yoga but seeking assistance to get relief from the health problems they are suffering from. Yoga class intends to educate individuals about learning the various poses of yoga, which leads to overall well-being. On the flip side, yoga therapy session focuses on the health conditions and how some specific yoga poses can improve it within a stipulated time period. It does not focus on the methods or techniques of yoga but making the individual feel better.
What Should You Expect From A Yoga Therapy Session?
If you decide to initiate yoga therapy, you will need to undergo an initial assessment with the therapist. This assignment is particularly designed for the following motives:
Discuss the various reasons for which you are seeking the therapy
Identifying the health problems creating trouble in your life
Accessing your physical capability and lifestyle to create a practice intervention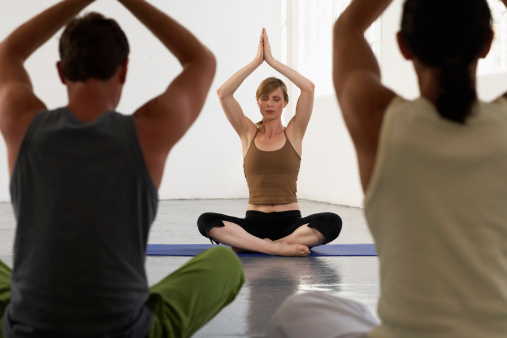 Recommendations By Yoga Therapists
General Yoga class is good for everyday pains, aches, and mood complaints. But a yoga therapy session in a small group or one-to-one goes far beyond because it is customized to fit the individual's requirements. The practices of yoga therapist recommendations include the following:
Visualization of meditation practices
Gentle to vigorous movements
Breathing techniques
Physical postures addressing musculoskeletal imbalances of particular areas of discomfort
If you are looking out for a yoga therapy session, it is vital to get the service of a professional therapist who is well trained and has a good knowledge base in this subject. The education and experience very among yoga therapists, but an experienced person should have the following knowledge:
Nutrition and diet
Yoga techniques philosophy and education
Psychology, Physiology and Anatomy
Therapeutic yoga techniques
Basic understanding of first aid and medical care
Business ethics understanding
Yoga therapists in Faridabad can provide you with exclusive yoga therapy packages at affordable rates. If you have any specific health disorder, you can get complete relief for your entire life with yoga therapy sessions. You can find the best yoga therapist at our center, call us or visit our center for more details